Little Upgrades Make a BIG Difference in Your Kitchen Remodel Project in Anchorage, Alaska
December 8
Tackling a kitchen remodeling project is an exciting and sometimes daunting task. There are a lot of details to consider and a thousand choices that need to be made before your dream kitchen is ready for you and your family to enjoy. So during this holiday season in Anchorage, Alaska we want to share some fun, small upgrades that will make your life so much simpler.
A built-in soap dispenser. Consider not only a soap dispenser for hand soap but also for dish soap. This helps your sink area stay cleaner with less clutter and soap rings on your sink and counter.
Large kitchen drawers. Well utilized, deep drawers offer all kinds of opportunities. Usually, lighting is better seeing down into said drawers instead of into deep, dark cabinets. If you are vertically challenged, getting items out of drawers is much preferable to overhead cabinets.
Soft-close hinges. Regardless of whether you go with all drawers or the average amount of drawers, invest in soft-close hinges, and you can enjoy the peace and quiet of softly closing drawers.
Undercabinet lighting. There are different styles of under cabinet lighting, but many who go the way of fluorescent lights report later that they regret not springing for LED lights. Having lights, that can precisely illuminate the wide variety of tasks we do every day in our kitchen is well worth the investment.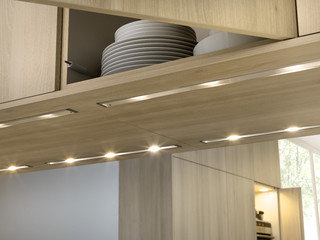 Special garbage disposal switch. Install a switch to the baseboard under the sink for your garbage disposal, and you have the surprisingly fantastic convenience of switching it on and off with your foot.
Add a bit of chalkboard. Paint a pantry door or other convenient door in your kitchen with chalkboard paint, and instantly you have a message board for the whole family or a great place to make grocery lists.
Photo by The Kitchen Place – Discover industrial kitchen design inspiration
Dimmer switches. It might seem like a small thing, but dimmer switches dramatically add to the flexibility you have to control the ambiance through mood lighting in your kitchen.
Upgrade your storage. Forget losing kitchen pots and pans in the deep recesses of your blind corner cabinets. There are some incredibly creative solutions out there now. Check these out by HAFELE.
Hidden charging station. Pick a convenient drawer and install as many outlets as you need inside the drawer. Then you have an out of the way charging station of all of your phones and other devices that keep clutter off the counter.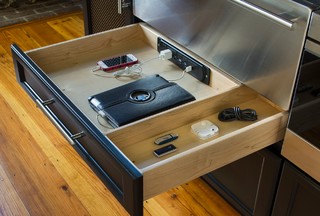 Be sure to talk to your contractor about any of the above ideas that you might want to incorporate into your next kitchen modeling project in Anchorage, Alaska.
--